Northern Ireland Primary Pupils 'Living Learning Together'
Tuesday 16th May 2007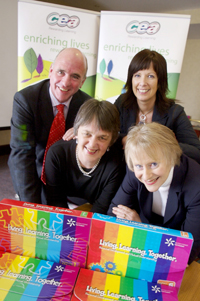 Pupils, parents and teachers in 30 primary schools across Northern Ireland have helped CCEA to produce a new resource to aid the introduction of the revised curriculum in September.
Living Learning Together' has now been sent to all primary schools and will support teachers in the introduction of a new area of the primary curriculum – Personal Development and Mutual Understanding PDMU.
Pictured here at the launch of the resource is:
On the left: Don Halliday, (Principal), and Maureen Maybin from Comber Primary School – one of the schools who helped CCEA pilot the materials;
and on the right: Marian Hamill and Kathryn Edgar from CCEA who adapted the resources for use in the revised Northern Ireland Curriculum.