Comic books bring local STEM heroes to life
Tuesday 07 June 2011
The Curriculum and Assessment Development team at CCEA has recently produced a comic book series for Key Stage 2 and 3 pupils. The comics teach students about the extraordinary achievements of some of Northern Ireland's unsung heroes in the areas of STEM (Science, Technology, Engineering and Mathematics).
The comic series, entitled 'Norn Iron's Ordinary Heroes!', brings alive the stories of people like Sir James Martin who was born in Crossgar in 1893 and went on to invent the ejector seat.
Steve Myers, Director at the world-renown CERN Institute, is pictured with the new comics below.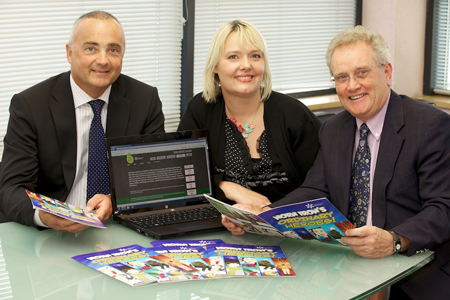 (L-R) CCEA's Director of Education Strategy Richard Hanna and CCEA's Learning for Life and Work Manager Melanie Mulligan with Steve Myers, Director of CERN, the European Organization for Nuclear Research.
Steve Myers visited CCEA to catch-up on what has been happening in relation to STEM since he attended the STEMWorks launch event at the Pump-House earlier this year.
To read the comic for yourself, click here.